Sievietes, miers un drošība: noslēdzošais #RSF2022 panelis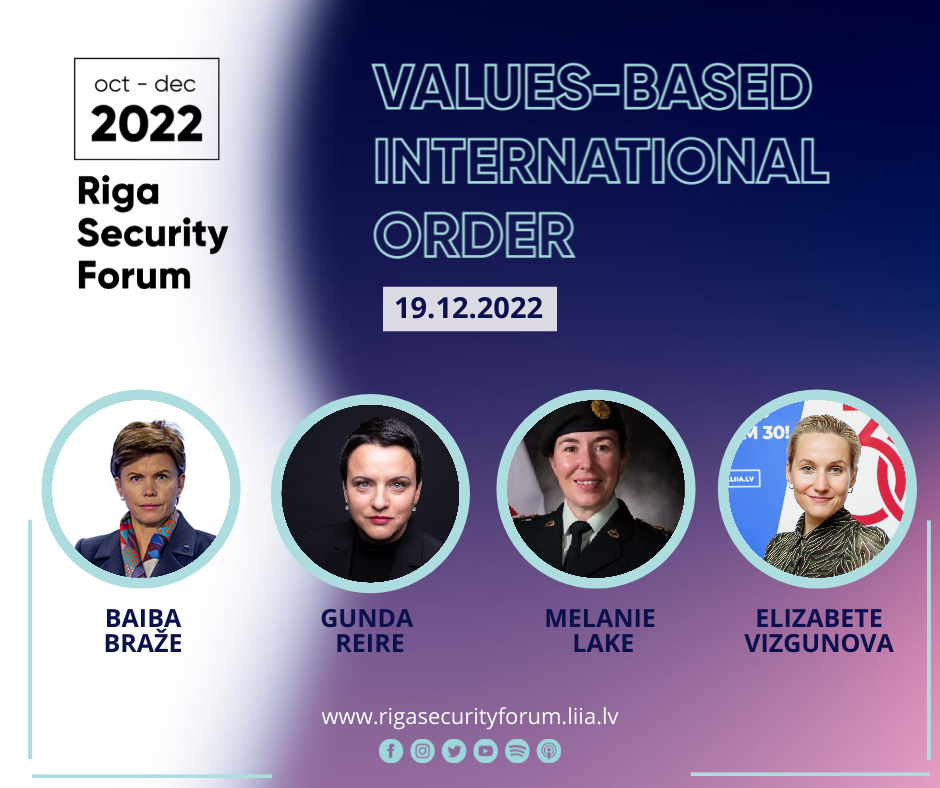 DARBA VALODA - ALNGĻU
On December 19, you are welcome to join the high-level #RSF2022 concluding discussion: "Putting on the 'Gender Glasses': Response to the War in Ukraine in the Transatlantic Security Space".
Please confirm your participation by registering here: https://ej.uz/RSF2022_FINAL
For the concluding in-person discussion, we are happy to host three distinguished guests:
Baiba Braže,

Assistant Secretary-General for Public Diplomacy, NATO;
Gunda Reire,

Parliamentary Secretary at the Latvian Ministry of Foreign Affairs;
LCol Melanie Lake, Canadian Armed Forces Advisor to Canada's Ambassador for Women, Peace and Security

The discussion will be moderated by our amazing colleague Elizabete Vizgunova, Researcher at the Latvian Institute of International Affairs and a journalist at TVNET Group.
As we speak calmly from Riga, Russia continues sending rockets toward any possible targets that women traditionally represent, including schools and kindergartens, hospitals, children's and maternity hospitals, and other populated areas. Reports about the killing of civilians, including children and women, as well as women being raped and murdered by Russian soldiers, are voiced loudly in the international press. Russia's approach has even been called a "deliberate strategy" by the UN Secretary-General.
The case of the war in Ukraine serves as an excellent case study to assess the capacity of the Western community to employ the "gender glasses" when providing assistance to the millions of women facing violence and psychological distress. It brings attention to several #WPS pillars:
The protection of women and children in armed conflict.

Women's leadership in all levels of conflict resolution.

The relief and recovery which has been provided by various international and humanitarian actors both in Ukraine and abroad.
The discussion will interrogate several aspects of the efforts to promote the protection, relief, and recovery of women, as well as promoting women's leadership in Ukraine by the Transatlantic community.
Register and see you there!
Nav komentāru
Komentēt